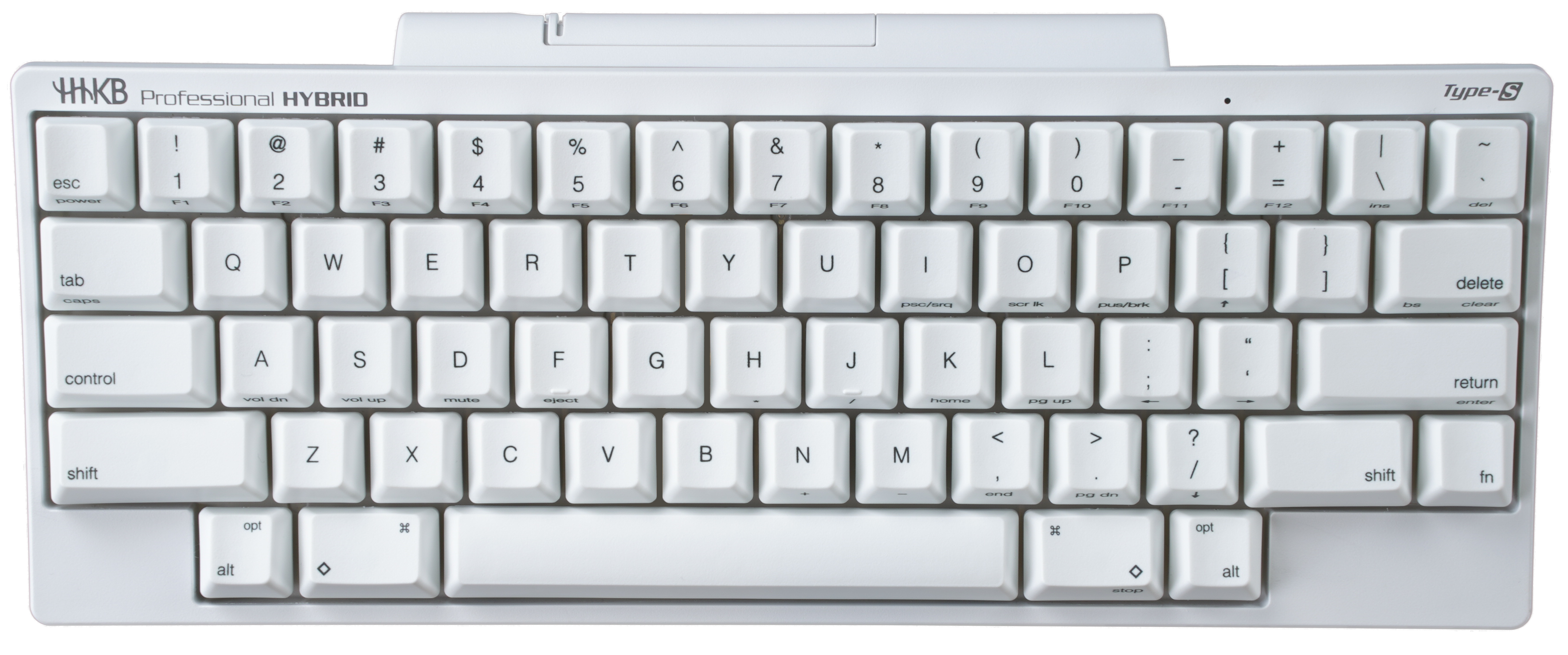 THE ICONIC
DIGITAL
COMPANION
Happy Hacking Keyboard Professional HYBRID Type-S Snow
The HHKB Professional HYBRID Type-S Snow models are pure white in colour with a minimalist design, aesthetically pleasing centre middle printed keycaps and an updated Fn key.
The printed version features a Helvetica style lite typeface never seen before on HHKB models.
Available with either printed or blank keycaps.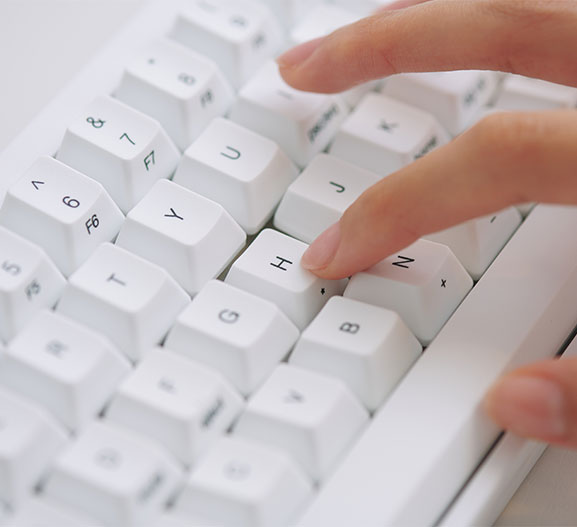 Minimalist, Tenkeyless, Near-Symmetrical Layout
Designed with a lot of white space for a minimalist and stylish design.
The compact size and near-symmetrical layout means your fingers never have to leave the home row, making for greater speed, accuracy and reduced wrist and finger fatigue. Key characters are printed in the center. Lowercase function keys are located at the lower left and lower right.
Topre Silent Key Switches
Comprising a conical spring, rubber dome, electrostatic capacitive sensor and silent membrane, Topre silent key switches eliminate key chatter, whilst providing supreme tactility, extra comfort, keystroke precision and a quieter HHKB experience.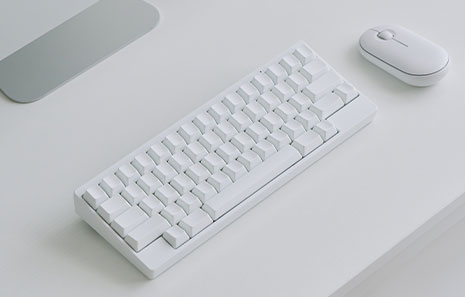 Premium PBT Keycaps and Spacebar
Sculpted keycaps and spacebar made from durable, shine-resistant PBT with dye-sublimation printed legends for long-life and a crisp, professional finish.
Cylindrical Step Sculpted Design
The cylindrical-step sculpted design provides greater ergonomics, with all keycap surfaces facing centrally, feels more natural and helps you keep your fingers on the home row.
Hybrid Connectivity
Connect to your PC or hybrid device via USB (Type-C), or connect to your PC, Tablet, Smartphone (up to 4 paired devices) via bluetooth multi-pairing, instantly switching between devices with keyboard shortcuts.
Dip-Switch Customisation
Dip-Switches enable you to change keyboard mode to support different Operating Systems.
UNIX Arrangement
We adopted the key arrangement following the Sun Type 3 key array. The [Control] key is to the left of [A] for greater usability and maximum productivity.
Keymap Customisation
Keymap settings are written and saved to the HHKB itself, so the same keymap can be used with different devices.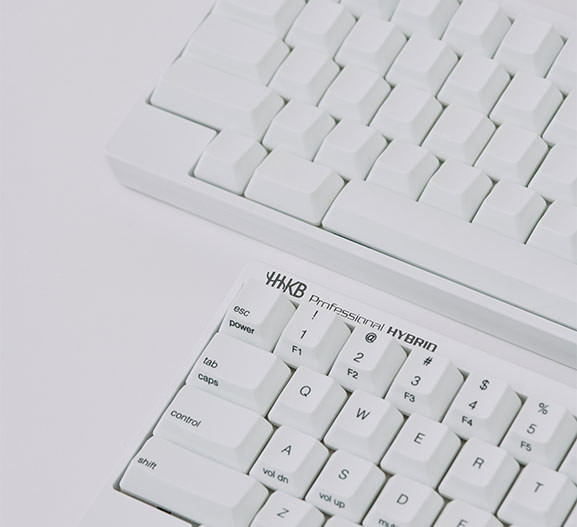 Made & Designed In Japan
Commitment to quality, durability, and technological sophistication.
HHKB Hybrid Type-S
Hybrid connectivity options and silent key switches create a quieter experience on all your modern devices.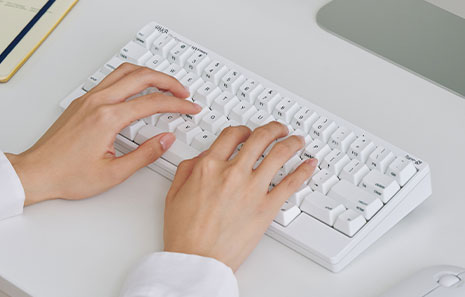 Model
HHKB Professional HYBRID Type-S Snow (Pure White/Printed Keycaps)
HHKB Professional HYBRID Type-S Snow (Pure White/Blank Keycaps)
Model Number
PD-KB800YSC
PD-KB800YNS
Chassis Format
Ultra-Compact Tenkeyless keyboard
Layout
Near-Symmetrical 60-Key Modified US ANSI Layout
Chassis Colour
Pure White (PD-KB800YSC / PD-KB800YNS)
Keycap Colour
Pure White (PD-KB800YSC / PD-KB800YNS)
Keycap Legends
Long-Life Dye-Sublimation Printed. Helvetica Lite Typeface. Centre aligned (PD-KB800YSC)
No Keycap Legends (PD-KB800YNS)
Keycap Legend Colour
Grey (PD-KB800YSC)
Keycap & Spacebar Material
Polybutylene Terephthalate (PBT)
Key Weight
45 g
Key Travel
3.8 mm
Key Pitch
19.05 mm
Key Switches
Topre Electrostatic Capacitive Silent Key Switches
Key Switch Structure
Rubber Dome, Conical Spring, Silent Membrane
Key Switch Lifetime
30 million keystrokes
Chassis & Key Ergonomics
Cylindrical Step Sculpted design
Keymap Customisation Software *1
Settings written to / stored on the HHKB
Bluetooth Interface *2
Bluetooth 4.2LE (Class 2) Multi-pairing – Up to 4 devices
Bluetooth Radio Operating Range
10 metres (approx.)
Power
2 x AA Batteries
Operating Time
Approx 3 months *3
USB Interface
USB Type-C
Adjustable Keyboard Height
3 Positions
Keyboard Dimensions
(W x D x H)
294 mm x 120 mm x 40 mm
Dipswitch Customisation
Keyboard Mode Selection:
- HHKB Mode
- Lite Ext Mode
- Mac Mode
Key Assignment & Wake Up Host Function
Delete Key assignment
Meta Key assignment (Windows Key / Command Key)
Alt Key assignment
Wake up host PC
Keyboard Weight
540 g (Excluding Batteries)
Operating Temperature Range
5°C – 35°C (41°F – 95°F)
Operating Humidity Range
20% – 80% (non-condensing)
Country of Origin
Made in Japan
Designed in Japan
Commitment to quality, durability, and technological sophistication
Package Contents
HHKB HYBRID Type-S Snow
2 x AA Alkaline Batteries User's Guide
Safety Precautions
Manufacturer Warranty
2 Year PFU Warranty *4
Advance Exchange Next Business Day *5
Includes replacement of product and two-way shipping costs
Windows
Windows® 11 (32-bit / 64-bit)
Windows® 10 (32-bit / 64-bit)
Windows® 8.1 (32-bit / 64-bit)
Windows® 7 (32-bit / 64-bit)
Windows® Server 2022
Windows® Server 2016
Windows® Server 2012
Windows® Server 2008
Apple
macOS® 13 Ventura
macOS® 12 Monterey
macOS® 11 Big Sur
macOS® 10.15 Catalina
macOS® 10.14 Mojave
macOS® 10.13 High Sierra
macOS® 10.12 Sierra
iOS® 11.4 or higher
iPadOS® 13.0 or higher
Android
Android™ 4.4 KitKat or higher
*1 Keymap customisation software requires a USB connection to a PC running Windows® or macOS®.
*2 Bluetooth connection requires Windows® 10 or Windows® 8.1, macOS® Catalina 10.15 or macOS® Mojave 10.14, iPadOS® 13.0 or higher, iOS® 11.4 or higher, Android™ 4.4 KitKat or higher.
*3 When using Alkaline batteries, different battery types may provide different results.
*4 Valid for 2 years from the original purchase date of the product from the PFU EMEA Store.
*5 Next Business Day available in some countries, geographic limitations may apply. Where Next Business Day is not available, exchanges typically take place within 1-2 days.
*6 HHKB HYBRID Type-S may work with other Operating Systems including many Linux distributions, although PFU cannot guarantee the keyboard is operable with any Operating Systems except those listed above.
All Specifications are correct at time of publishing but may be subject to future revision due to changes in support policy by PFU and Topre.